About BVTI
BVTI is a Service-Disabled Veteran-Owned Small Business (SDVOSB) located in the Washington D.C. Area. In business since 2002, we provide BEST VALUE solutions to government clients including the Department of Defense, the Department of Homeland Security and subcomponents, the Federal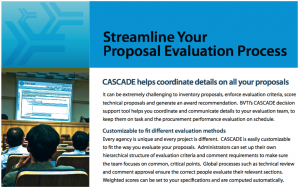 Aviation Administration, and all agencies in the Intelligence Community. What is "Best Value" all about? It means that whomever we serve, BVTI seeks to provide only the highest quality solutions, never resting at simply checking the box or performing to the minimum.
BVTI designed and maintains the Acquisition Resource Center (ARC) for the Intelligence Community. The ARC was established to provide for an electronic means of efficiently reaching the contractor base and to expand that base for increased competition. The ARC benefits both vendors and the Government by providing industry with a one-stop source for acquisition information, improving communication, and making acquisition less costly and easier to execute.
Our specialty is program management, where we have established a track record of assembling qualified teams to perform a range of government services. This specialty was confirmed by our selection as prime in DHS' Program Management, Administrative, Clerical, and Technical Services $1.5 billion ceiling contract. We successfully competed against over 250 other companies and were the only contractor to win both Program Management and Technical Services functional categories–highlighting our exact strengths.
We provide business process engineering, integrated product team support, earned value management, and a range of subject-matter-specific planning capabilities to DHS components. Our Program Management and IT clientele includes the Intelligence Community, which we support in cyber security and acquisitions, and the Federal Aviation Administration (FAA), whom we are supporting in NextGen program management.
Our success is a factor of our investment in human capital, the centerpiece of our company. By providing the best people, we provide the BEST VALUE to government clients.